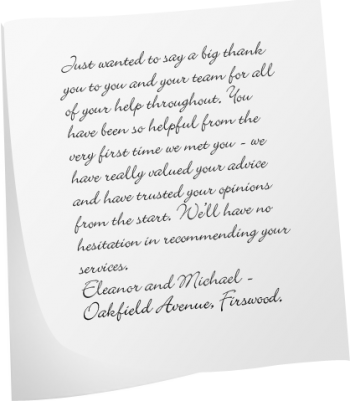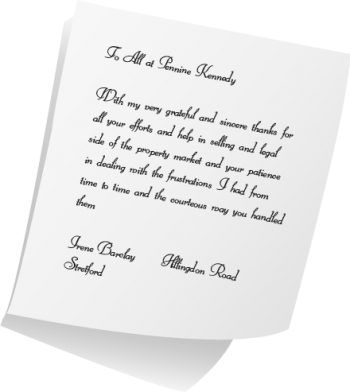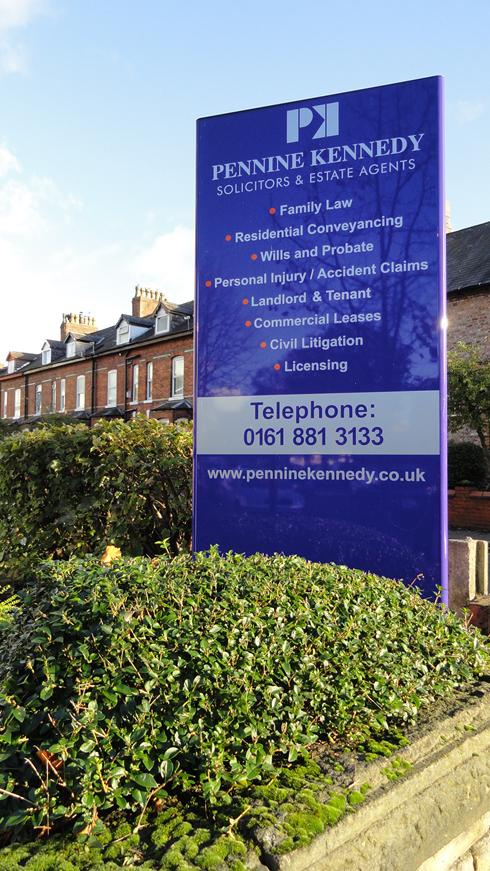 Anyone who has endured the stress of buying and selling should read some of our testimonials to see why our business makes sense.
What do our clients think of us…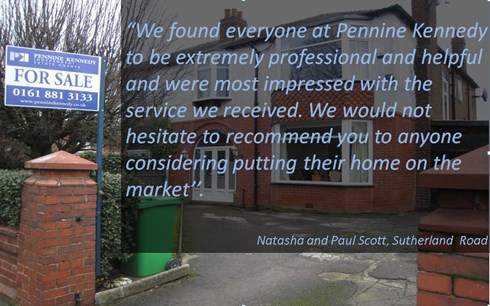 To Richard and Staff,
Our most sincere thanks for all the help and advice and support during out recent move to Cosgrove Hall. At times it was very worrying and we felt completley out of our depth. Thanks to your knowledge and assured advice we got there in the end. With much gratitude.
Jocelyn and Elsie (Hurstville Road)
 
---

To Gina,
Just a little thank you for everything you've done to help our move along. You've been ace! Pop in for a cup of tea anytime!
love Antonia and Ben
 
---
 
I just wanted to take the time to write regarding the excellent service that we received from Pennine Kennedy but specifically Richard Peck.
 Throughout the process of selling our house from the very first meeting we had with Richard right through to the eventual sale nearly 12 months later, he was not only professional and efficient but we felt that he went above and beyond in order to get us moved.
 As you'd expect we dealt with a number of different estate agents throughout the process of moving and Richard was head and shoulders above the quality of the others.
Please can this be passed onto Richard and the team and I do hope that he gets the recognition he deserves.
 
Thanks again
 Peter & Amy Fletcher (Newport Road)
 
---
Dear Richard
We just wanted to thank you and your colleagues at Pennine Kennedy for your support during the sale of our house on Sutherland road. We found everyone extremely professional and helpful and were most impressed by the service we received. We would not hesitate to recommend you to anyone considering putting their home on the market.Regards Natasha and Paul Scott – Sutherland Road,Firswood.
 
---

A big thank you to all the guys who took part in the sale of our home and making it as smooth and stress free as possible. Don and Pat Scudder – Cromwell Road, Stretford.
 
---

Dear Gina, Richard and team, thanks so much for your professionalism and keeping me informed at every stage. its was a faily stressful few weeks but i was very happy with my chocie of solicitors and estate agents. I will be popping a card in the post to Richard and the team who have been great throughout. Becky Marr – Abbotside Close Whalley Range. 
 
---

Dear Richard, Toni and all
We've finally found a minute to thank you very sincerely for your wonderful help and support during our sale and purchase. Thanks a bunch.Barbara and Jon Hensher – Albion Street and Henley Ave
 
---

Dear Richard Gina and Sandra,
We would like to thank you all so much for making our dream come true and helping us move in to our wonderful new home. We really appreciate everything you've done. Nick and Phil – Plumbley, Drive
 
---

To Gina and Richard
Thank you all so much for your professionalism efficiency and compassion in successfully selling my property. Sue France – Chatfield Road,Chorlton
 
---

Richard,
Just wanted to say a big thank you to you and your team for all of your help throughout. You have been so helpful from the very first time we met you – we have really valued your advice and have trusted your opinions from the start. We'll have no hesitation in recommending your services.Eleanor and Michael – Oakfield Avenue,Firswood.
 
---

To All at Pennine Kennedy
With my very grateful and sincere thanks for all your efforts and help in selling and legal side of the property market and your patience in dealing with the frustrations I had from time to time and the courteous way you handled themIrene Barclay -Hillingdon Road, Stretford.
 
---

To Richard and Team,
The building work has started! We were really pleased with the service you provided and would recommend you to anyone in the future.Tamasin and Stephen Earle – Granville Avenue, Whalley Range
 
---

To Gina,
We just wanted to thank you for all your hard work throughout the course of our sale. In honesty you were the only positive thing about the whole process and we feel lucky to have used you.Gary and Lianne –  Parrs Wood Ave
 
---

Dear Gina
 
Many thanks for your help in what seemed like an effortless transaction on the sale of our home. You helped to make the whole process so easy.

Claft and Malek – Hurstville Road, Chorlton
 
---

To Richard, Toni and Gina
 
A big Thank You for all your help, especially Richard, in making the move into our new home go as smoothly as it has.

Hazel and Peter Johnson- Northleigh Road, Firswood
 
---

To all,
Thank you for selling my house on Priory Avenue Chorlton. Your service was refreshingly honest when it came to an appraisal of the 'real' market value of my house, unlike stories I've heard from close friends of other estate agents in the area who price houses unrealistically for their own ends to get the initial business.
 
Your fees were reasonable in comparison to other estate agents in the area whose are higher and claimed to offer more. I don't think I received any less of a professional service and can't wait for the move to Australia. Thanks.

John Little- Priory Avenue,Chorlton
 
---

Thank you Gina and Richard:
Thank you very much for your professionalism, kind and polite manners, especially with the latest delays and outbursts of anger from the Alonsos. We are ever so grateful for all your hard work. With kind regards,
 
Albert and Nayna Alonso – Dawlish Road, Chorlton
 
---

To Richard & the rest of the team
Thank you so much for all your help, advice and support in selling our house. We have been extremely impressed by the professionalism of the whole Pennine Kennedy staff and would definitely recommend you to others.

Thank you all so much Love from Duncan & Gill Hunter – Warwick Road South,Firswood
 
---

Dear Richard
We just wanted to say a BIG THANK YOU for helping us to get our house and making our dreams come true.All the best Gerald & Vanessa Costa – Langshaw Street, Old Trafford
 
---

To Richard
Just to say thank you and that we appreciate all your hard work to get us to this point. Couldn't have done it without you!Wishing you all the best Danny & Pam – Northleigh Road,Firswood
 
---

To Richard, Toni & the P. & K. team
Just a note to say a really big thank you for being great estate agents. All you have been polite, friendly, professional and hard working throughout our sale. Couldn't have asked for more from you. Doing a lot to improve estate agents reputations!Thanks again Lyndon & Abbey Sinclair – Fulford Street, Old Trafford
 
---

To all at Pennine Kennedy
Just wanted to express our thanks for your professionalism throughout the sale of our house, and purchase of the new one. You were always available and kept us in the loop at all times. You were a key player in sorting out the lengthy chain too.All the best Tim & Dalia – Darley Street, Stretford
 
---

Thank you for your help and advice. We love our new home. You were great!! We will highly recommend you to our friendsBest wishes Anne & Matthew Earnshaw
 
---

Just a note to say thank you for everything your help made the whole process so much easier and stress free. I am now settled into my new home & love it! Will be recommending you to others.Thanks again Melanie Phillips Norbreck Ave,Chorlton
 
---

Hi Gina
Can I just say a very big thank you on behalf of my Mum, Uncle and myself for all you have done! The move went very smoothly even though it was a long and tiring day for Mum but I know she will be very happy and content in her new home. Thank you again for all your efforts.Kind regards Steve
 
---

Hi Richard
Just wanted to say thanks again for doing such a great job. I've been very impressed with the professionalism shown by you and you colleagues from day one and I am very happy to have gone with you.Thanks & Regards Dougall – Aylesby Court,Chorlton
 
---

Richard, Toni & team
Thank you for all your help not only selling Hawarden but the invaluable market advice when purchasing our new home. We would recommend Pennine Kennedy in a heartbeat.Holly & Martin- Hawarden Ave,Whalley Range